About The Kentuckiana Santa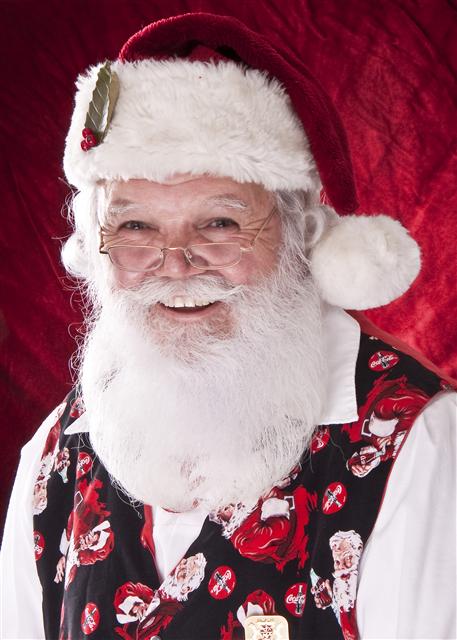 Personal Information
Was born to wonderful parents Thomas Earl and Mary Martha Owens who have served as his inspiration in his marriage and is one of a family of 6 children 2 boys and 4 girls.
Has been a Santa for 32 years
Married for 41 years to his lovely wife Diana, Father of three sons Mike, Brian, Matt, Father in law to a sweet daughter in law Amanda, Grandfather to 3 girls and 1 boy from Mike, Adrianne, Brooke, Casey and Dylan. Brian and Amanda have 2 boy's Davey and Kayson, great-grandfather to three,  2 great-grandsons Colton and Camdon from Adrianne and Jesse, 1 great-grandson Liam from Brooke and Will
Santa Jerry is Military Veteran of the United States Air Force 1970-1974
Santa Jerry is and has served as a mentor at their request to fellow Santa's in the Santa community all over.
Volunteers with Hosparus Health of Southern Indiana and Grief Counseling and is a Santa with Santa America.org which provides comfort hope, love and joy to children and adults dealing with serious illnesses, life changing events and provides support for our military families.
I shot a pilot Commercial for Coca-Cola and it can be seen on YouTube and was filmed totally in the Kentuckiana area starting in Santa Claus, Indiana.
"Santa's Forgotten Letters"
People have asked me over and over "Why do you do what you do?" For me, it is about making each visit I have with every child, senior, mom and dad something that they will never forget. Hopefully they leave thinking to themselves "that is what I hoped Santa would be like." The smile of a child is similar to the MasterCard commercial "for somethings there is MasterCard and others there is a smile and it is just priceless!
Places Santa Jerry Is or has Worked:
Photography Studios:
Moments Photography selected best Photography studio in Kentuckiana area 2012-2014, News and Tribune Readers' Choice Award 2014-2015, voted in the Hall of Fame of Photography of the Professional Photographers Association of Greater Louisville
Doris Hampton Photography, New Albany, IN
Presently:
Eleminopea Photography, Richland IN
Nikki Lynn Photography, Jeffersonville, IN
Alex Nicole Photography, New Albany, IN
Ashley Pollard Photography, New Albany, IN
Katie Hagmann Photography, New Albany, IN
Ashley Bowen Photography, Sellersburg, IN
Santa Schools:
Charles W. Howard Santa Claus School, Midland MI from 2007-2019
St. Nicholas Institute, Detroit, MI 2012-2018
International University of Santa Claus 2007-2010, 2019
Northern Lights Academy Atlanta, GA 2019
The Brothers Claus Nashville, TN 2018
American Clown Academy Forsyth, GA 2018-2019
Awards and or Positions held:
Santa Jerry has been Awarded:
Inducted into the International Santa Claus Hall of Fame Class of 2019
Co-Chairman of the Santa Claus Oath Committee
The Santa Claus Oath Medal of Honor
Captain in the Knights of St. Nicholas
The Clan Claus Order of The Benevolent Reindeer
The Order of St. Nicholas Medal from the St. Nicholas Institute
Tree Lighting Ceremony for City of New Albany, New Albany, IN
Valhalla Golf Club, Louisville, KY
Festival of Trees and Lights Slugger Field, Louisville, KY
AML Construction Co. Christmas Party, Floyds Knobs, IN
Hughes Group Inc. Jeffersonville, IN
Indiana University Southeast Ogle Center Christmas Performance
The Brown Hotel Louisville, KY
Has been requested in the past to appear at Fort Knox on behalf of Santa-America for some of troops recently returning from deployment
Also Featured on:
Extol Magazine November 2016
Explorer Magazine December 2014
NBC Today Show Weekend Edition live in New York 12-1-2013
Southern Indiana Magazine 2014
Radio Voice Over for Schmitt Furniture in New Albany, IN 2015
Professional Santa Schools